SecureDrive BT: The Secure Data Storage Solution
The hardware-encrypted SecureDrive BT eliminates data leaks while keeping digital files safe. The device is hardware-encrypted paired with wireless authentication via a mobile device and is FIPS-validated. It can be remotely wiped from anywhere in the world if your device is lost or stolen.
SecureDrive BT is Remote Management (RM)-ready through a separate subscription that can be added at any time after purchase. RM allows an Admin to manage drive access remotely to view users, enable geo- and time-fencing, and perform remote password reset. Each of these features are performed software-free through a web portal.
Please share your use case, and we will be in touch with you
Easy-to-use, hardware-encrypted, external hard drive with Bluetooth and extra security features:
FIPS 140-2 Level 3 Validated: Certificate #3349
Awards: Red Dot 2019 Award Winner | CES 2019 Innovation Award Honoree
Works with any device with a powered USB port
Hardware encryption: XTS-AES 256-bit
Interior parts covered in epoxy to prevent media removal from hackers
User authentication with secure wireless mobile app with encrypted Bluetooth (iOS & Android)
Remote wipe
Dual factor authentication, Face ID/Touch ID authentication, password retrieval
Admin/user modes (*Admin mode for Remotely Managed drives only)
Read Only mode
Auto-lock
Remote Management-ready* (sold separately)
Preloaded with DriveSecurity® ESET Antivirus (1-year license included)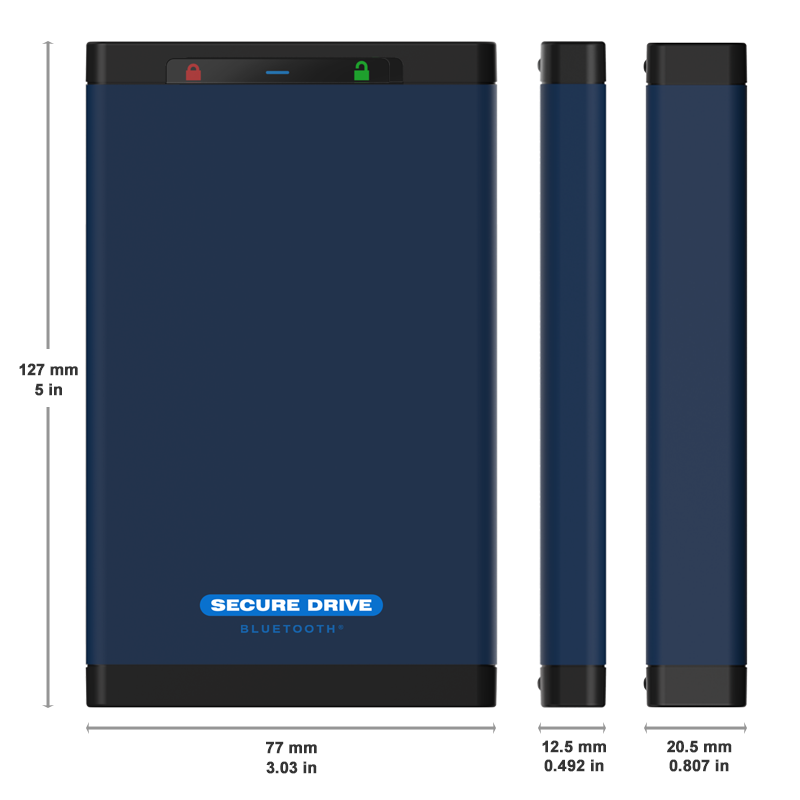 Products Features:
• HOST OS INDEPENDENT
The SecureDrive® BT will work with any OS There are no drivers or software to update; all encryption and authentication are performed directly on the drive,
• WIRELESS USER-AUTHENTICATION
Connect wirelessly to your hard drive via smart phone/tablet (Android/Apple) or Apple Watch with full disk AES256-bitXTS hardware encryption.
• REMOTE WIPE
The SecureDrive® BT is the only hardware encrypted portable drive that can be remotely wiped with a unique command in the event that it is lost or stolen.
• STEP-AWAY AUTOLOCK
The Step-away Autolock locks the drive when the IS/Android device is moved about 10 ft away from the drive for longer than 5 seconds.
• SLIM SECUREDRIVE® DESIGN
At 12,5mm, the SecureDrive* is the thinnest portable hardware encrypted hard drive on the market.
• REMOTE MANAGEMENT READY
The SecureDrive* BT can be remotely managed via Web Console that allows IT managers to control where and when the drives can be accessed with Geo-Fencing and Time Fencing. Additional features include remote unlock, change password, remote wipe, or disable access even If the user has set a password.
Specifications
Capacity

250 GB – 8 TB

Size

SSD & 500 GB; 1, 2 TB HDD – H: 125 mm W: 77 mm L: 12.5mm

4 & 5 TB HDD – H: 125 mm W: 77 mm L: 20.5 mm

Data transfer speed

Reads up to 355 MB per second; writes up to 333MB per second

Security Module Validation

FIPS 140-2 Level-3 validated

Authentication method

Wireless (Bluetooth) & mobile app (Android and iOS)

Authentication mode

User authentication via mobile phone/SecureData Lock® app – iOS/Android (Touch ID, Face ID, face recognition, fingerprint)

Interface

USB 3.0/3.1 gen1/3.2 gen1

Data Protection

Real-time military grade XTS-AES 256-bit full-disk hardware encryption

Tamper-evident

Protected with epoxy compound to prevent subversive physical access to the device. Erases all data after 10 consecutive, incorrect PIN entry attempts

Brute-force defense

Erases all data after 10 consecutive, incorrect PIN entry attempts

Immune to Bad USB

Yes; firmware updates not allowed

Roles/Permissions

1 User

Read Only Mode

Yes

Inactivity Auto-lock

Predefined times between 1 and 60 minutes

Step Away Auto-lock

Drive will disappear from the File Explorer/Finder when the iOS/Android device is moved about 3 meters away from the drive for longer than 5 seconds.

OS Compatibility

Windows, macOS, Linux, Chrome, Thin Clients, Embedded Systems, VMware, Citrix (no software or drivers needed)

Regulatory Approvals

RoHs, FCC, CE, FIPS 140-2 Level 3

Warranty

2-year limited (HDD)

3-year limited (SSD)

Remote Management

Subscription-based service via web sold separately. (Geo-fencing, remote data wipe, time-fencing, password reset, and more)
From hardware appliances to software solutions and training, DT Asia understands cybersecurity challenges and can deliver solutions that help detect & identify, protect & secure, authenticate & authorise, and degauss & destroy.
Address
21 Bukit Batok Crescent,
#02-72 WCEGA Tower,
Singapore 658065