This post is also available in:

Vietnamese

For over 50 years, SEM has been the undisputed leader in data elimination for classified and highly sensitive information, providing high security data destruction devices to the United States federal government and its subsidiaries.
Today, SEM builds upon that standard of excellence by supplying the military, intelligence, and federal law enforcement communities including the FBI, DoD, CIA, and Department of Securities and Exchanges with unparalleled machines that shred, disintegrate, destroy, and sanitise the highest levels of classified data stored on every type of media. More recently, moving into the data centre market, SEM has a proven record with hundreds of machines in data centres worldwide included Google data centres.
Request for more info and we will be in touch with you shortly
Model 0101 Automatic Hard Drive

Crusher
The SEM Model 0101 Hard Drive Crusher has been evaluated by the NSA/CSS and meets NSA and DoD compliance guidelines for the physical damage of media with a durability rating of 204 drives/hour. This hard drive crusher destroys all hard drives regardless of size, format or type up to 1.85″ high including desktop, laptop and server drives. The Model 0101 hard drive crusher is an ideal way to meet the destroy mandate as part of the DoD's Degauss and Destroy specification.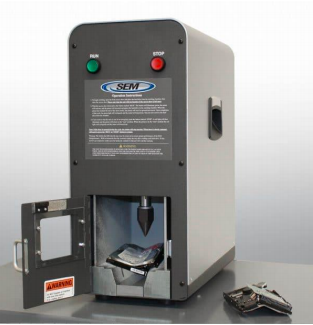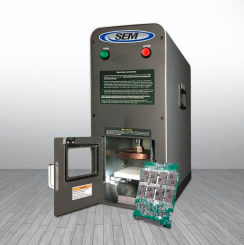 The 0101 Hard Drive Crusher destroys all hard drives regardless of their size, format, or type up to 1.85" thick including drives found in laptop, desktop, or server systems. With the SSD Kit, the 0101 can be converted into a system that can effectively and securely destroy the solid state data storage chips found on a wide variety of circuit/controller boards.
Model 0300 Hard Drive

Shredder
The Model 0300 is a small footprint hard drive shredder for low volume shredding. Up to 500 laptop drives per hour and 200 desktop drives per hour can be destroyed in the Model 0300. Single phase 120V power makes the Model 0300 ideal for office use. The Model 0300 includes air filtration system for particulates and odour. An optional discharge conveyor for the Model 0300 is available.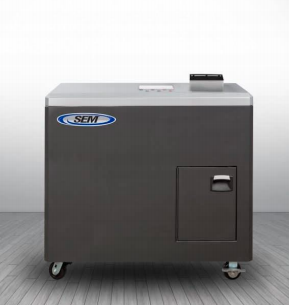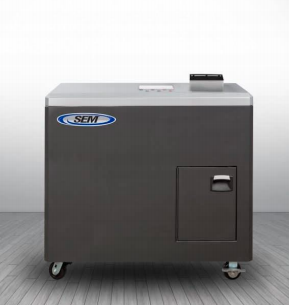 Model 0315 Enterprise Hard Drive

Shredder
The Model 0315 for the destruction of rotational/magnetic drives has a 1.5 HP, slow speed, high torque shredder that was specifically designed for enterprise drive destruction. The system uses specially designed saw tooth hook cutters to chew up rotational enterprise hard drives at 1.5″ particle size.
Model SSD1-HS

Disintegrator
The SEM Model SSD1-HS reduces solid state devices to waste particles of ≤1 mm² and meets DIN 66399 Standard E-7. Absolute destruction through repetitive high speed cutting of memory media ensures all data is properly sanitized. The Model SSD1-HS destroys solid state boards, RAM, smart phone/cell phone components, SIM cards, USB flash drives, compact flash, and even optical discs. Please note that SSDs must be removed from casings prior to destruction.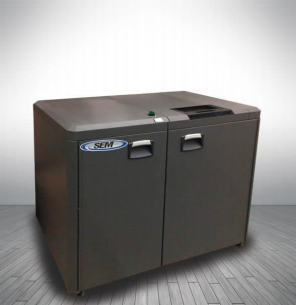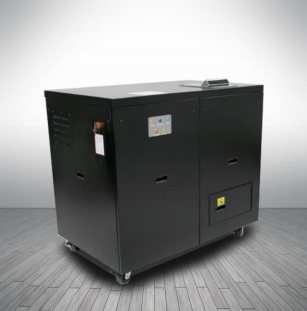 Model 2SSD Solid State Drive


Disintegrator – Enterprise
The SEM Model 2SSD was engineered specifically for enterprise drive destruction and produces a final particle size of approximately 2mm squared.
The SEM Model 2SSD includes an enhanced, rugged two-stage cutting system designed to destroy enterprise drives that are larger, heavier, and denser than standard drives, with heat sinks, cooling tubes, and industrial grade construction. The device also includes an internal bin-based waste collection system with bin full indicator and auto shut off and specially enhanced cutting blades and sizing screens to ensure waste particles of 2mm or smaller.
From hardware appliances to software solutions and training, DT Asia understands cybersecurity challenges and can deliver solutions that help detect & identify, protect & secure, authenticate & authorise, and degauss & destroy.
Address
21 Bukit Batok Crescent,
#02-72 WCEGA Tower,
Singapore 658065