This post is also available in:

Vietnamese

The vSEC:CMS will change your view on how to manage the lifecycle of smart cards and other secure authentication devices. This is an innovative, easily integrated and cost effective solution compared to similar Secure Credential Management Systems (SCMS or CMS) that will help you deploy and manage secure authentication devices within your organisation.
vSEC:CMS is a standalone application that can be accessed through Remote Desktop Services or from a HTTPS interface using a client application. It supports the most variety of smart card tokens in the market and a huge list of Certificate Authority that allows you to have integration with the users' current PKI environment.
The product suite provides all the software tools to administrate and manage credentials in a secure and convenient way.
Please share your use case, and we will be in touch with you
The vSEC:CMS product suite provides complete credential management systems, either as on-prem software products or delivered as cloud applications. It enables administration and management capabilities of authentication credentials in a secure and convenient way.
The product suite consists of products that meet every organisation's requirements for managing physical and virtual smart cards, RFID devices, corporate badges or tokens with PKI, PIV or FIDO capabilities.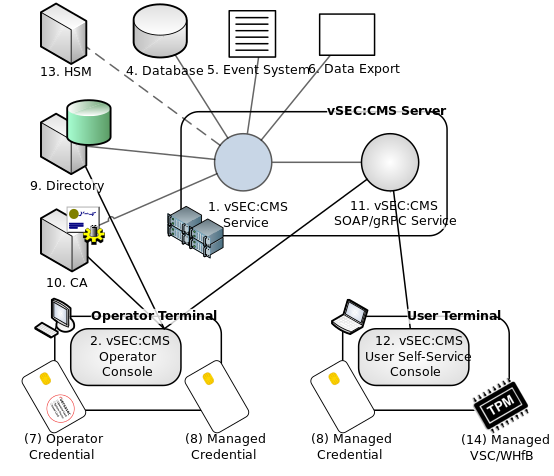 From hardware appliances to software solutions and training, DT Asia understands cybersecurity challenges and can deliver solutions that help detect & identify, protect & secure, authenticate & authorise, and degauss & destroy.
Address
21 Bukit Batok Crescent,
#02-72 WCEGA Tower,
Singapore 658065