Where Next Meets Now
Quest creates and manages the software that makes the benefits of new technology real while empowering users and data, streamlining IT operations and hardening cybersecurity from the inside out. Companies turn to Quest to manage, modernize and secure their business, from on-prem to in-cloud, from the heart of the network to the vulnerable endpoints.
For over 30 years, they have been turning hype into help for enterprise organizations. Database and systems management, end-to-end Microsoft solutions, and cybersecurity resilience solutions from Quest help enterprises achieve better productivity and security, conquer their next challenge with confidence and achieve true IT resilience — because the next is here now.
Request for more information about the product/solution.
Our team will be happy to assist.  Do allow us up to 3 business days to reply.  Thank you for your patience.
Microsoft Platform Management 
ZeroIMPACT Migrations
In your Microsoft environment, next never stops. Your next merger or acquisition. Your next Office 365 migration. Your next compliance audit. Your next Active Directory security threat. Quest is the only company with end-to-end products for your next migration, management, and security challenges across any Microsoft platform, including Active Directory and Office 365 workloads such as Teams, SharePoint, OneDrive for Business, and Exchange.

Key Features:
Microsoft 365 & Team Expansion and Upgrade functionalities of the earlier version
Cyber Resilience & Disaster Recovery against next hybrid AD and M365 security threats
Migration & Mergers, and Acquisitions & Divestitures with the least pain and highest productivity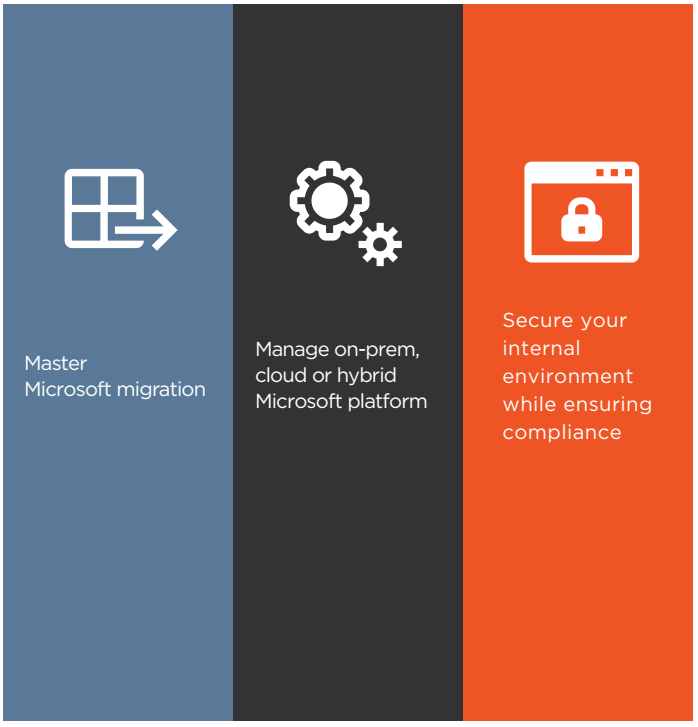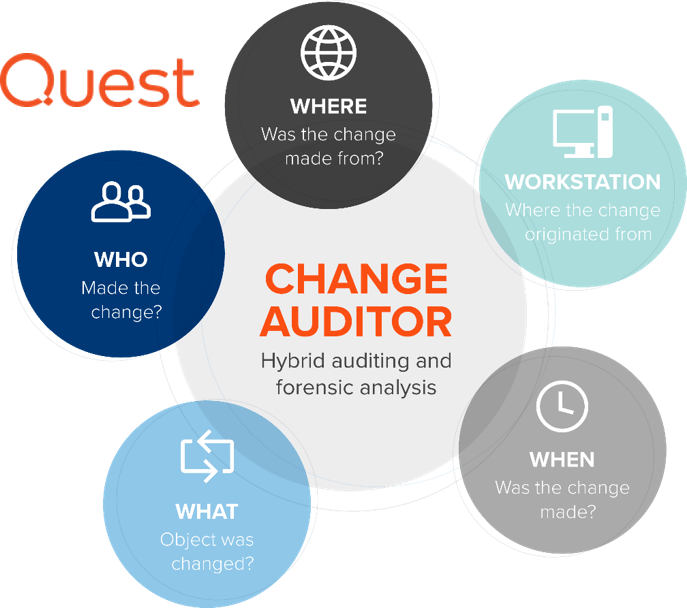 Security vulnerability monitoring for your Active Directory (AD) and hybrid Microsoft environment.
Active Directory continues to be the cornerstone for securing access to business-critical applications. Yet change reporting and vulnerability monitoring for AD is cumbersome, time-consuming, and often impossible using system-provided IT auditing tools. Adopting Azure AD and Office 365 only increases your reliance on Active Directory, while doubling the attack surface and introducing additional opportunities for ransomware and other exploits. This often results in data breaches and insider threats that can go undetected without protections in place. Fortunately, Change Auditor provides real-time threat monitoring and security tracking of all key user activity and administrator changes.
Recovery Manager for Active Directory 
Active Directory backup and recovery at the object and attribute level.
Mistakes happen. Your Active Directory (AD) environment can be damaged when an administrator accidentally deletes something or makes a mass update that goes wrong. When this happens, it can negatively impact your productivity for hours or even days. It can cost your company revenue and damage your reputation. You need an AD recovery tool to get you back up and running quickly.
Quest® Recovery Manager for Active Directory is like an insurance policy for your AD environment. It enables you to pinpoint changes to your AD environment at the object and attribute level. You'll know what happened, who is impacted and what to roll back. You can quickly compare backups to pinpoint differences at the object and attribute level and instantly recover the data whether it's in your on-premises AD, Azure AD or hybrid AD environment.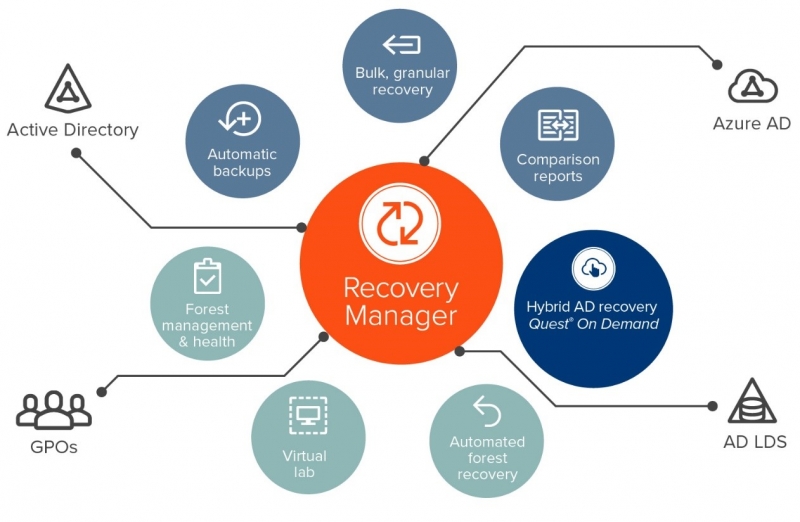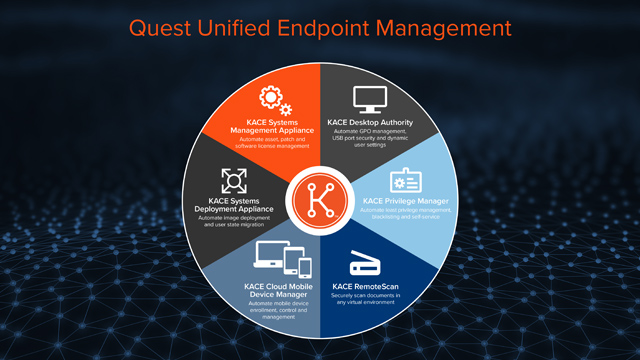 KACE Unified Endpoint Management
KACE® by Quest supports your unified endpoint management (UEM) strategy by helping you discover and track every device in your environment, automate administrative tasks, keep compliance requirements up-to-date and secure your network from a range of cyberthreats. With KACE, you can effectively address your endpoint management needs with individual products for specific tasks or as an integrated UEM solution.
On Demand Migration
Migrate all your workloads and Active Directory with one comprehensive Office 365 tenant-to-tenant migration solution.
On Demand Migration is an Office 365 tenant-to-tenant migration tool that allows you to simply and securely consolidate and migrate all your Office 365 tenants running such workloads as Exchange, OneDrive, SharePoint and Teams, as well as on-premises Active Directory. An intuitive dashboard gives you complete visibility into your migration project. Track progress in real-time, all while ensuring coexistence during the migration.
From hardware appliances to software solutions and training, DT Asia understands cybersecurity challenges and can deliver solutions that help detect & identify, protect & secure, authenticate & authorise, and degauss & destroy.
Address
21 Bukit Batok Crescent,
#02-72 WCEGA Tower,
Singapore 658065