This post is also available in:

Vietnamese

The weakest link in the entire chain of cybersecurity equation is the ignorance of humans.  KnowBe4 focuses on training users to overcome cybersecurity threats and measuring the effectiveness of users' response.
KnowBe4 is the world's largest integrated platform for security awareness training, combined with simulated phishing attacks.  Join our network of more than 35,000 customers to manage the continuing problem of social engineering.
Request a quotation or for more product info.
Our team will try their level best to response back to you. Further Question with regards to you needs is expected to ensure we find the right fit for your enquiry. On average, it takes us 3 business days. Thank you for your patience.
KnowBe4 Security Awareness Training

Program
KnowBe4 trains the users, subject them to simulated attacks and measures the response of the users systematically.
Common areas of concerns such as Social Engineering, Phishing, Passwords, Malware/Ransomware and USB attacks are addressed with a repertoire of constantly updated software tools and media.
The users will be more aware and effective in avoiding cybersecurity attacks coming from various aspects of using computers and technologies.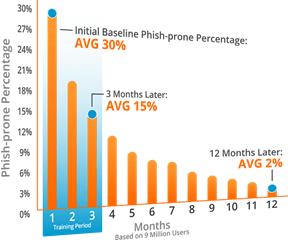 From hardware appliances to software solutions and training, DT Asia understands cybersecurity challenges and can deliver solutions that help detect & identify, protect & secure, authenticate & authorise, and degauss & destroy.
Address
21 Bukit Batok Crescent,
#02-72 WCEGA Tower,
Singapore 658065