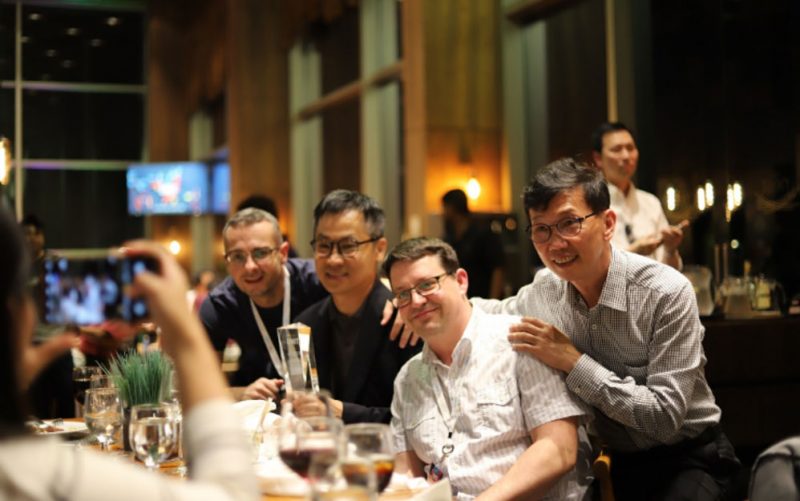 Mike Tan & David Ong, founders of DT Asia with Balázs Scheidler, founder of syslog-ng.
Photo taken: March 2019 in Singapore
In today's fast changing world of cybersecurity technologies, log management is boring. In the 1980s, syslog started as part of the Sendmail project, where log messages can be used for security analysis, system/operational management, debugging and compliance.
Back in those days, there were not many systems/devices connected to an organisation's network. The EPS (events per second or number of log messages per second) count for each network was low. At the same time, logs collected were primarily for system/operational management or troubleshooting purposes.
However, in today's highly interconnected world with an almost infinite number of connected devices, log management systems are now required to handle enormous amounts of information with EPS of a typical network easily in the 10,000-100,000 range. At the same time, log information has become a target of cyber theft. Finally, log messages form the primary and key type of data input for SIEM (Security Information and Event Management) systems, which sit at the heart of a modern SOC (Security Ops Centre). Such security systems are typically very costly and while very effective for security analysis, are not the ideal place to store logs for compliance and/or incident response purposes. This is where syslog-ng comes in.
The syslog-ng project was started in 1998 by Balázs Scheidler. It has since been developed into an enterprise grade, highly secure and scalable log management tool trusted by top enterprises and government organisations around the world.
Read more on Page 32 and 33 to learn the key features of syslog-ng that feed its popularity and the syslog-ng Store Box (SSB): https://www.aisp.sg/document/newsletter/AiSP_Newsletter_2021%20December_v1.pdf
DT Asia has been an authorised syslog-ng distributor for 10 years, and Data Terminator, a sister company of DT Asia, was a sponsor at the AiSP Knowledge Series & Div0 Meetup in April 2021.
Association of Information Security Professionals (AiSP) is an independent cybersecurity association that believes in developing, supporting as well as enhancing industry technical competence and management expertise to promote the integrity, status and interests of Information Security Professionals in Singapore. AiSP believes that through promoting the development, increase and spread of cybersecurity knowledge, and any related subject, we help shape more resilient economies.
Data Terminator is a trusted brand in Data Leakage and End-of-Life Data Protection. Our processes are ISO 9001:2015 and ISO 14001: 2015 certified. Our mission is to provide our Customers effective and efficient Data Leakage Prevention solutions.
DT Asia is a regional, value-added distributor of cybersecurity solutions providing cutting-edge technologies to key government organisations and top private sector clients including global banks and Fortune 500 companies since 2007, with offices and partners around Asia Pacific to better understand the markets and deliver localised solutions.