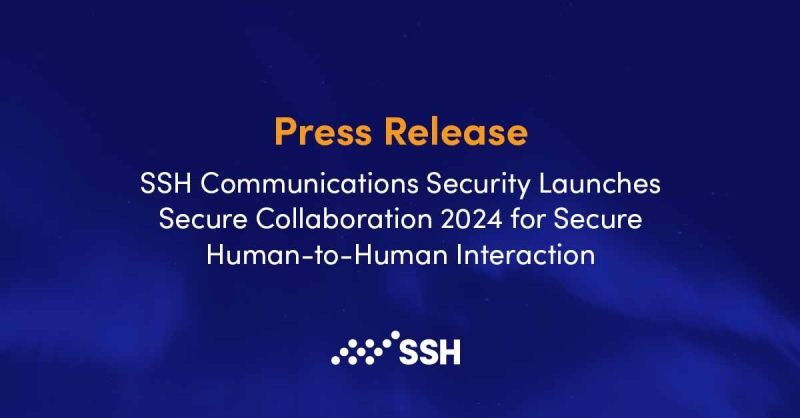 Helsinki, Finland – September 7, 2023 – SSH Communications Security extends SSH Zero Trust Suite to a modern, real-time, secure, and audited (who did what when?) human-to-human communications platform. It consists of multiple modules helping people to share private and sensitive data in semi-interactive (email) mode and in real-time (calls, video calls, and instant messaging) and on-demand (sharing data) inside and across organizational and country borders.  
Secure Collaboration 2024 brings enhancements to our existing functionality from the current Deltagon Suite and now introduces the Secure Mail 2024 module, a secure email platform based on proven PrivX® Technology for decades to come.  
SSH Secure Collaboration 2024 consists of:
Secure Mail 2024 

Secure email inside your own organization and with partners and consumers

Secure Sign 

Secure online signatures

Secure Rooms

 

Sharing and storing high-volume sensitive and private data efficiently

Secure Forms

 

Secure input of sensitive and private web forms

Secure Messaging 2024

 

Secure Instant messaging with audio, video, and chats

 
Enabling controllable Business Communication 
Secure Collaboration 2024 solutions enable corporations to have oversight and protection of communications between humans on private and sensitive data. Fulfilling compliance requirements, firstly for the finance sector and later for other industries for communicating secret, confidential, and restricted data. 
Enhanced Oversight for ESG Compliance 
Very recently, the U.S. Securities and Exchange Commission (SEC) has commissioned extraordinarily high fines to several global financial organizations for not recording digital communications between their employees and their customers and for letting their employees use private devices for customer dialogs.  
With Secure Collaboration 2024, organizations can build authorized channels for sharing private and sensitive information with internal and external stakeholders and get a solid audit trail of activities like surveillance cameras do in our daily life.  
Innovative Functions for Modern Human-to-Human Collaboration
Enhanced User Interface:

 Faster, user-friendly UI and UX with a modern appearance.

Extended functionality:

 Secure auditable sharing of data, Instant messaging, audio, and video calls, and more.

Share of small to enormous files

: Efficient sharing of single data files even larger than 100 MB.

Modern Microservice -based Container Architecture

: Efficient resource management and operational cost savings.

Zero Trust and Post-Quantum Safe

: Enables secure email users to migrate seamlessly to the future-proof technologies of Zero Trust (ZT) and Post-Quantum Safe.

 
Seamless Transition 
For businesses already benefiting from SSH (Sec@GW and other Deltagon Suite solutions), the transition to the SSH Secure Collaboration 2024 can be achieved with minimum effort.  
Existing Deltagon products all remain in our active portfolio, giving our customers the opportunity to choose their timing of moving to the next generation of Secure Collaboration from SSH. 
Source: https://www.ssh.com/press-releases/ssh-communications-security-launches-secure-collaboration-2024
About DT Asia
DT Asia began in 2007 with a clear mission to build the market entry for various pioneering IT security solutions from the US, Europe and Israel.
Today, DT Asia is a regional, value-added distributor of cybersecurity solutions providing cutting-edge technologies to key government organisations and top private sector clients including global banks and Fortune 500 companies. We have offices and partners around the Asia Pacific to better understand the markets and deliver localised solutions.