Physical Security for Digital Data with the SecureUSB KP.
Protect digital files and prevent data leaks with the portable SecureUSB® KP. The device is hardware-encrypted and is FIPS-validated. It is unlocked when a user enters the PIN via the onboard keypad. The keypad itself is wear-resistant to prevent unauthorized persons from seeing commonly used numbers.
In addition to physical security, this flash drive has brute-force, anti-hacking technology. This feature erases the data on the device after 10 consecutive, failed PIN entries. The device itself is IP57 dust- and water-resistant, and is OS-independent to be used across any device with a USB port
Please share your use case, and we will be in touch with you
USB flash drive with extra security features:
FIPS 140-2 Level 3 Validated: Certificate #3522
Award Winning: Red Dot 2019 Award Winner
IP57 Certified: dust- and water-resistant (up to 1 meter)
Works with any device with a USB port
Hardware encryption: XTS-AES 256-bit
Interior parts covered in epoxy to prevent media removal from hackers
Alphanumeric keypad for user authentication (7 – 15-digit PIN)
Admin/user modes
Read Only mode
Inactivity auto-lock
Preloaded with DriveSecurity® ESET Antivirus (1-year license included)
Built-in battery for convenient pre-plug PIN entry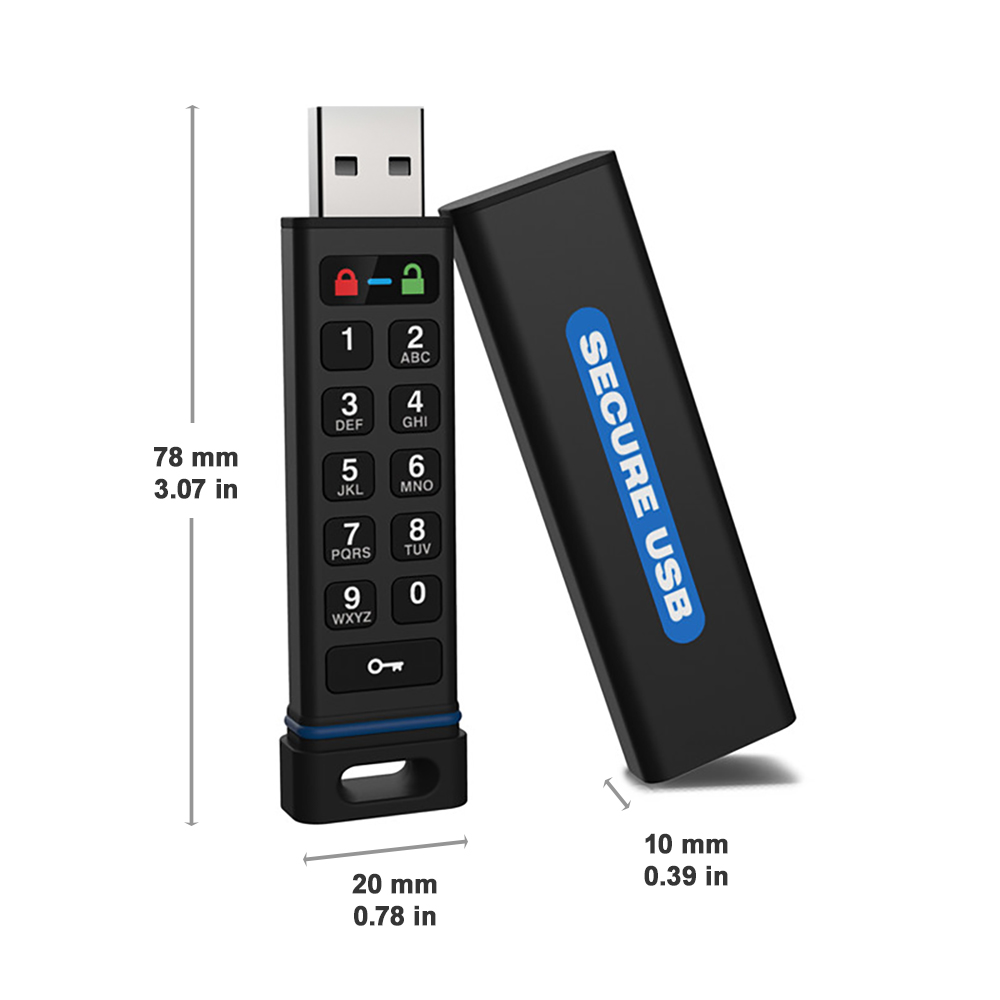 Products Features:
• HOST OS INDEPENDENT
The SecureUSB® KP will work with any OS. There are no drivers or software to update; all encryption and authentication is performed directly on the drive.
• IP57 CERTIFIED DUST & WATER RESISTANT
The revolutionary IP57 rated design includes a rugged extruded aluminum sleeve that is dust and water resistant. The crush resistant body, protects from physical damage.
• WEAR RESISTANT KEYPAD
Special coating covers the keys on the SecureUSB® KP keypad to mask key usage and prevent potential attackers from guessing the most commonly used keys.
• ADMIN AND USER MODES
Setting up an Admin PIN will allow the Admin to regain access to the data on the drive if the User is no longer available, and set policies such as Read-Only and Inactivity Autolock.
• INACTIVITY AUTOLOCK
To protect against unauthorized access when the drive is connected to a host computer and unattended, the drive can be set to automatically lock after a pre-set amount of time of inactivity between 1 and 60 minutes.
• BRUTE FORCE ANTI-HACKING SELF DESTRUCTION
Entering an incorrect password ten consecutive times triggers the brute force hacking detection which will crypto-erase the passwords, all User data, and drive formatting.
Specifications
Capacity

8 GB – 64 GB

Size

With sleeve – H: 78 mm W: 20 mm L: 10 mm

Without sleeve – H: 65 mm W: 20 mm L: 10 mm

Weight With sleeve: 22 grams

Without sleeve: 14 grams

Data transfer speed

Reads up to 152 MB per second; writes up to 118 MB per second

Keypad

Wear-resistant keypad

Security Module Validation

FIPS 140-2 Level-3 Validated

Authentication method

User authentication via onboard keypad

Interface

USB 3.0/3.1 gen1/3.2 gen1

Data Protection

Real-time military grade XTS-AES 256-bit full-disk hardware encryption

Waterproof

IP57 Certified (up to 1 meter)

Tamper-evident

Protected with epoxy compound to prevent physical access to the device through tampering

Brute-force defense

Erases all data after 10 consecutive, incorrect PIN entry attempts

Immune to Bad USB

Yes; firmware updates not allowed

Roles/Permissions

1 Admin / 1 user

Read Only Mode

Yes

Inactivity Auto-lock

Predefined times between 1 and 60 minutes

OS Compatibility

Microsoft Windows, macOS, Android, Linux, Chrome, Thin Clients, VMWare, Citrix Embedded Systems (no software or drivers needed)

Regulatory Approvals

FCC, CE

Warranty

3-year limited
From hardware appliances to software solutions and training, DT Asia understands cybersecurity challenges and can deliver solutions that help detect & identify, protect & secure, authenticate & authorise, and degauss & destroy.
Address
21 Bukit Batok Crescent,
#02-72 WCEGA Tower,
Singapore 658065