The SecureUSB BT: Total Control of Your Data
Protect your data and stop data leaks with the hardware-encrypted SecureUSB BT. This device brings revolutionary data protection and military-grade XTS-AES 256-bit encryption combined with easy-to-use wireless authentication via a mobile app. It has impenetrable FIPS 140-2 Level 3 validated security features to protect from physical harm, and the data saved to the flash drive can be wiped remotely in the event the device is lost or stolen.
SecureUSB BT is Remote Management (RM)-ready through a separate subscription that can be added at any time after purchase. RM allows an Admin to manage drive access remotely to view users, enable geo- and time-fencing, and perform remote password reset. All of these features are performed software-free through a web portal.
Please share your use case, and we will be in touch with you
Easy-to-use, hardware-encrypted USB flash drive:
FIPS 140-2 Level 3 Validated: Certificate #3528
Awards: Red Dot 2019 Award Winner | CES 2019 Innovation Award Honoree
IP57 Certified: dust- and water-resistant (up to 1 meter)
Works with any device with a USB port
Interior parts covered in epoxy to prevent media removal from hackers
Hardware encryption: XTS-AES 256-bit
User authentication with secure wireless mobile app with encrypted Bluetooth (iOS & Android)
Remote wipe
Dual factor authentication, Face ID/Touch ID authentication, password retrieval
Admin/user modes (*Admin mode for Remotely Managed drives only)
Read Only mode
Inactivity auto-lock
Remote Management-ready* (sold separately)
Preloaded with DriveSecurity® ESET Antivirus (1-year license included)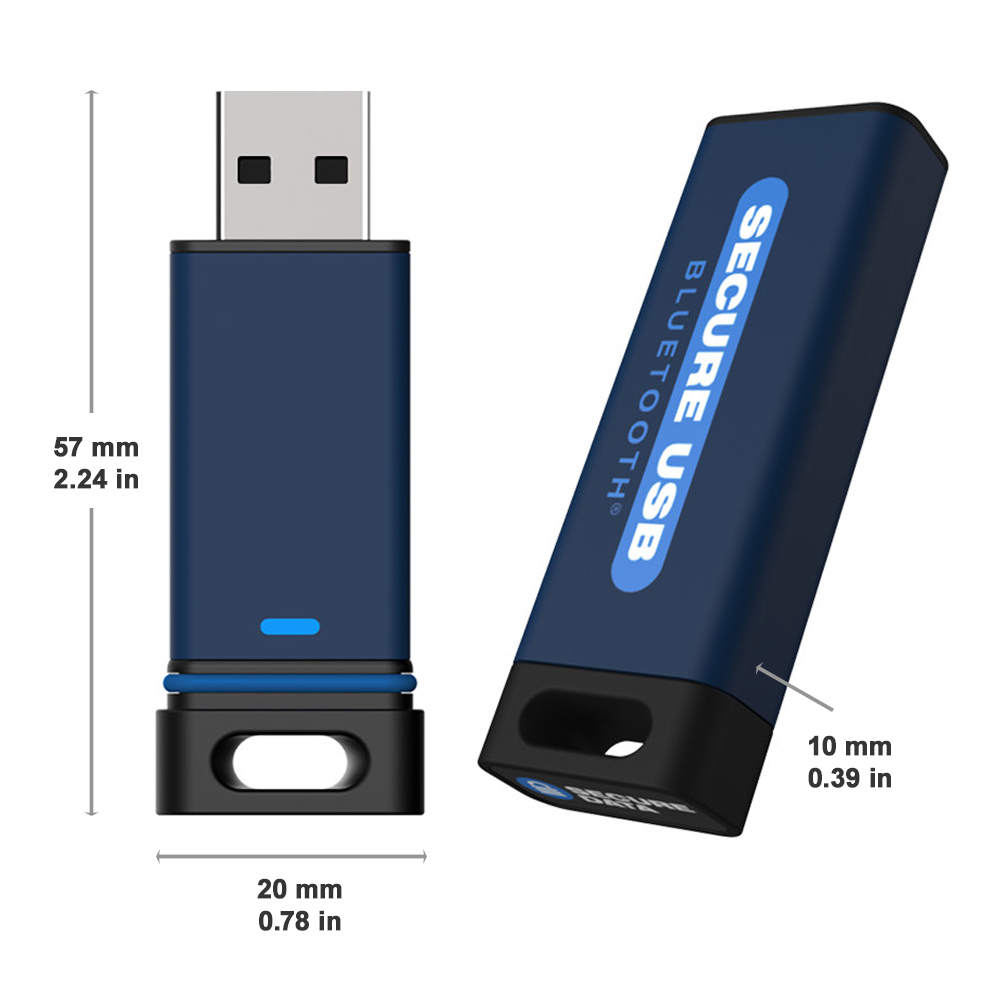 Products Features:
HOST OS INDEPENDENT
The SecureUSB® BT will work with any OS. There are no drivers or software to update; all encryption and authentication are performed directly on the drive.
WIRELESS USER-AUTHENTICATION
Connect wirelessly to your hard drive via smart phone/tablet (Android/Apple) or Apple Watch with full disk AES256-bitXTS hardware encryption
REMOTE WIPE
The SecureUSB* BT is the only hardware encrypted USB flash drive that can be remotely wiped with a unique command in the eventthattislostorstolen
STEP-AWAY AUTOLOCK
The Step-away Autolock locks the drive when the iOS/Android device is moved about 10 ft away from the drive for longer than 5 seconds.
IP57 CERTIFIED DUST & WATER RESISTANT
The revolutionary IP57 rated design includes a rugged extruded aluminium sleeve that is dust and water resistant. The crush resistant body, protects from physical damage.
REMOTE MANAGEMENT READY
The SecureUSB* BT can be remotely managed via Web Console that allows IT managers to control where and when the drives can be accessed with Geo-Fencing and Time-Fencing. Additional features include remote unlock, change password, remote wipe, or disable access even if the user has set a password
Specifications
Capacity

8 GB – 64 GB

Size

With sleeve – H: 56 mm W: 20 mm L: 10 mm

Without sleeve – H: 55 mm W: 20 mm L: 10 mm

Weight With sleeve: 16 grams

Without sleeve: 12 grams

Data transfer speed

Reads up to 130 MB per second; writes up to 43MB per second

Security Module Validation

FIPS 140-2 Level-3 Validated

Authentication method

Wireless (Bluetooth) & mobile app (Android and iOS)

Authentication mode

User authentication via mobile phone/SecureData Lock® app – iOS/Android (Touch ID, Face ID for Apple only)

Interface

USB 3.0/3.1 gen1/3.2 gen1

Data Protection

Real-time military grade XTS-AES 256-bit full-disk hardware encryption

Waterproof

IP57 Certified (up to 1 meter)

Tamper-evident

Protected with epoxy compound to prevent physical access to the device through tampering

Brute-force defense

Erases all data after 10 consecutive, incorrect PIN entry attempts

Immune to Bad USB

Yes; firmware updates not allowed

Roles/Permissions

1 User

Read Only Mode

Yes

Inactivity Auto-lock

Predefined times between 1 and 60 minutes

Step Away Auto-lock

Drive will disappear from the File Explorer/Finder when the iOS/Android device is moved about 3 meters away from the drive for longer than 5 seconds

OS Compatibility

Microsoft, iOS, Android, Linux, Chrome, Thin Clients, Embedded Systems (no software or drivers needed)

Regulatory Approvals

FCC, CE, FIPS 140-2 Level 3

Warranty

3-year limited

Remote Management

Subscription-based service via web sold separately. (Geo-fencing, remote data wipe, time-fencing, password reset, and more)
From hardware appliances to software solutions and training, DT Asia understands cybersecurity challenges and can deliver solutions that help detect & identify, protect & secure, authenticate & authorise, and degauss & destroy.
Address
21 Bukit Batok Crescent,
#02-72 WCEGA Tower,
Singapore 658065